Mirror Me
Introducing our all new magical Mirror Me booth that is sure to make your special day even more unforgettable!
For a limited time, Creative Photo Booths is offering a special on this new unique booth, for more information or inquiries,
contact us
today!
The Magic Mirror Me Photo Booth is a fully interactive photo booth that is available for weddings, birthdays, fundraisers or any social event!
It is proving to be a huge success in Southern California.

Introducing Creative Photo Booths newest photo booth option for 2017!
Take a look at our Mirror Me Photo Booth!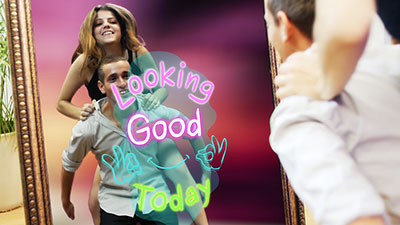 The ultimate show piece for any event! The Mirror Me takes photo booth fun to a whole new level!
The Mirror Me Booth is a unique photo booth offering the latest technology in interactive picture taking. The full-length mirror offers a sleek design and a user-friendly interface. As guests walk up to the mirror, they are greeted by colorful animations and a pleasant voice inviting them to engage in a Magical Mirror experience.

One of the most exciting features of the Mirror Me Booth is the option for guests to draw or sign directly on the mirror, which will then be printed out on the final image. This booth also has green screen compatibility and is completely customizable from the artwork to amazing animations. So, the photos will be as unique as your special day!

Your guests won't have to wait to share their photos. The Mirror Me Booth will not only print them a hard copy of their creation, but they will also have the option to receive a digital copy for immediate sharing - so everyone will know what a great time they are having!


See the Booth in Action!
We know, this booth sounds too good to be true! If you still don't believe us, click the link to see the booth in action!
Watch Now!
The Mirror Me Photo Booth will engage
all of your friends, guests and family!

Fun times for everyone!
Memories that will last a lifetime!